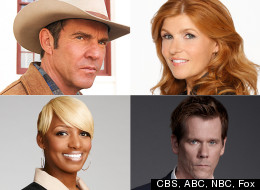 Real Housewives of Atlanta star Nene Leakes has been the only one in the RH franchise to actually make the transition from reality TV to scripted television.  She has been named "one to watch" on the new NBC series "The New Normal".
from the Huffington post:
There are a lot of big stars coming to new shows in this 2012-2013 TV season, but who are the critics most excited to see? Huff Post TV rounded up 20 of the top TV critics in the country to share their picks, and while there was quite a lovefest for one actress in particular, there were plenty of names thrown out to get you excited for fall TV shows on all five broadcast networks.

We've already praised the best new comedies and the best new dramas (and sufficiently bashed the worst new shows as well), but this video is all about the stars who make those shows successful.

From Connie Britton — who was saved from that haunted "American Horror Story" house by ABC's soapy country musical drama "Nashville" — to Dennis Quaid taking on his first series regular role on CBS' "Vegas"; from a "Friends" alum to a former "Felicity" star; and from the star of Fox's "The Following" (Kevin Bacon) to a few comedic standouts from "The New Normal" on NBC, here are the 12 fall TV stars we just can't wait to see more of.
In the meantime, a Salt Lake City Mormon television station is refusing to air the show. Ellen Barkin, not known for biting her tongue, tweeted this:
"Shame on u @kslcom not airing @NBCTheNewNormal So L&O SVU (rape & child murder) is ok? But loving gay couple having a baby is inappropriate?"
You've got a point there, Ellen.