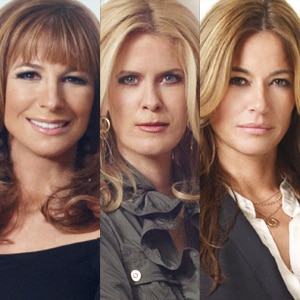 Joe Pugliese/Bravo
jill                         alex               kelly
Kelly Bensimon seems to think she left the Real Housewives of New York on her own. Of the women fired after the debacle of a reunion after Season 4, Kelly has been the most quiet. Jill Zarin. of course, won't go away quietly…she's always on twitter talking about her "haters"  and trying to get someone to care about her line of shapewear. She also goes on that local radio show of her sister's, Lisa Wexler.
Simon van Kempen continues to live on twitter and obsess about his Klout score. Yawn.  He and wife Alex McCord meet with Rob Shuter and LuAnn de Lesseps last week, trying to get cameos on Season 5 (allegedly)
from eonline:
Kelly Bensimon has no regrets about her departure from The Real Housewives of New York City.

In fact, she has another new project she's excited to share this week.

"I have a big announcement on Thursday," she told me last night in NYC.

But the Bravo reality star admits she'll definitely miss one aspect of the show…

"It was a lot of fun energy," she said. "It was frenetic; it wasn't kinetic. I didn't feel like it was moving in a good direction, but it was fun and it was a whirlwind. I don't regret any of it. That was a good opportunity."

Kelly maintains a positive outlook on Bravo deciding to shake up the cast and make some additions to the lineup.

"It's like a changing of the guard. New people come in and that doesn't mean that the old ones are bad. It's a new breed and that's cool," she told me at the Droid Razr by Motorola party last night, where 50 Cent performed and Zoe Saldana hosted.

As for which Housewives stars she expects to keep in touch with, there's not a ton. "I've talked to LuAnn," she explained. "Jill and I are really good friends. But I'm not really friends with anyone else."
Indeed.
RELATED ARTICLES
SAYING GOOD BYE TO ALEX MC CORD
JILL, ALEX, KELLY FIRED FROM NY HOUSEWIVES