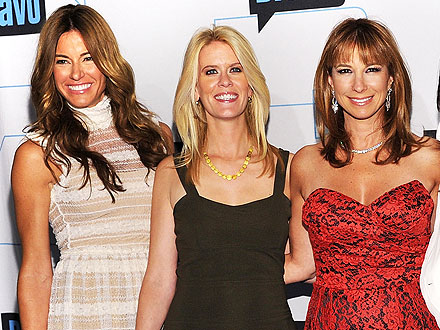 It's official, Kelly Bensimon, Jill Zarin, Alex McCord and Cindy Barshop have been fired from the Real Housewives of New York City.  People.com confirmed late last night.  The rumors have been going around for the past week. 
Bravo TV wanted more glamorous women to represent New York. Three new ladies have been recruited.
Remaining with the cast: Ramona Singer, Sonja Morgan and LuAnn de Lesseps.
When the story went out, Jill Zarin's rep made an interesting comment:
 Jill is humbled by the extraordinary amount of media interest in her response and looks forward to personally opening up about all of this very soon and announcing some exciting new projects."
Humbled? The number of Facebook and twitter  queries sent to Andy Cohen and Bravo TV asking that Jill Zarin be removed from the cast was extraordinary, so much so that Cohen responded: "I hear your concerns." 
Throughout the summer, Jill , through Naughty Nice Rob, issued veiled threats directed at Bravo about "telling it all". These threats heightened after the suicide death of Russell Armstrong.   Good to know Bravo didn't respond to these threats. We will be hearing from Jill Zarin for as long as anyone cares what she has to say. Zarin is currently in Nashville, Tennessee visiting her daughter Ally Shapiro at college. She and husband Bobby are leaving for Europe Thursday.  As for  the "exciting new projects", she and Patti Stanger are reportedly working together on something, but, given these two personalities, that won't last.
Kelly Bensimon should have been fired after the Scary Island incident during Season 3.  She'll just go back to lala land and her gummy bears.
The firing of Alex McCord is causing protest among her fans. It doesn't matter, Alex comes with Simon van Kempen, Andy Cohen wanted him gone, badly.He caused too much trouble on twitter, simple as that.   And there is no Alex, unfortunately, without Simon.  So there.
Watch What Happens
RELATED ARTICLES
DID RHONY GET LUCKY?