UPDATE: 2/2/13  Dina and Tommy Have Been Separated Since October, 2012
http://absurdtosublime.net/2013/02/02/dina-manzo-and-husband-tommy-are-separated/
Updated from 5/17
This has been mentioned in the blogosphere several times over the past year. Until someone from the Manzo camp says otherwise, I still call it a rumor, though it makes sense.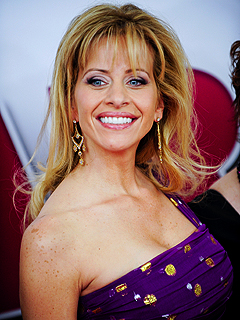 dina manzo
Women gossip. And, we all know how it goes — sometimes there's truth behind that rumor, sometimes it's just wild speculation.

Franklin Lakes, the town where the Real Housewives of New Jersey is filmed, is certainly not immune to gossip and, in fact, its chatty ladies are exactly why we love watching the show so much week after week. So it's no surprise, then, that the gossips of Franklin Lakes have something to say about one of the show's biggest scandals: what Danielle Staub did to Dina Manzo to make Caroline Manzo so upset at last year's reunion show.

"Word on the street (of New Jersey) was that Danielle gave Dina's ex-husband the number for child protective services," our tipster told us. "He called with allegations that she was abusing Lexi. That kind of makes more sense than just contract disputes. Recall Dina's disgust and Caroline's near tears anger?"
What's more, sources say  Dina and her husband Tommy Manzo — whose wedding was featured on VH!'s My Big Fat Fabulous Wedding — "were separated by the time the show aired."

"He now lives across the street and has a new girlfriend," our tipster added.

When Dina was asked at Bravo's upfront event in March, she mentioned that her husband was not going to be on the show (he wasn't during the first season, either) causing us to ask her if she was dating. "Am I dating?!" Dina asked us, surprised. "I'm married!" Representatives for the show did not immediately respond for our requests for comment.
Related Links: Tommy Manzo: Last Year's Versace?   What is Dina Hiding? 
                       My Big Fat Fabulous Wedding (complete episode)