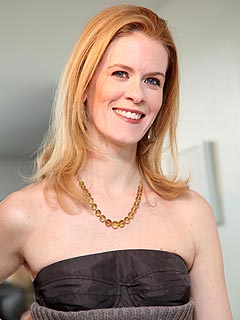 Alex McCord of the Real Housewives of New York City City seems as calm and philosophical as ever in this interview.
RADARONLINE.COM: The other women are so judgmental of your relationship with Simon. Why do you think that is?

ALEX MCCORD: Well, I can only speak from what I know and that is that Simon and I have a relationship that's really, really equal and we're very comfortable with each other.  People always try to psychoanalyze that.  I think they always think that there's something nefarious at work when there really isn't.  The best way I can describe it is he and I are like runners in a relay race and we pass the baton back and forth.  And sometimes, he has it and he's controlling things and sometimes, I have it and I'm controlling things, but we're not controlling each other.

RADARONLINE.COM: Why do you think he gets Ramona so crazy?      

ALEX MCCORD: (laughing) Oh, my gosh. Well, you're going to have to see what happens this season, seriously.  But, I think that when you go into an experience like this and you don't know each other very well and people say, 'Oh, this person is this way and that person is that way,' and you have expectations that someone's going to be in your way—it takes a while to get over that and realize who they really are.
The complete interview:
The Real Housewives Of New York City's Alex McCord – No Topic Is Off Limits! | RadarOnline.com